Best bases for Clash of Clans - TH 5 / Town Hall Level 5
After update of the game on December 10, 2015, a large number of 3 main resources (Gold, Elixir and Dark Elixir) are kept in the Town Hall. Now it makes no sense to put Town Hall outside the Wall (you will lose the resources stored in the Town Hall and will not get shield!). After this update, the main task of the players is at any cost to defend the Town Hall! Please choose Base layout for "Defense"!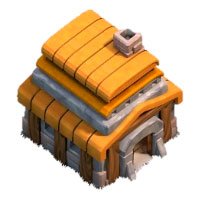 On Town Hall Level 5 the gameplay become more interesting. You will have access to golden walls, Spell Factory, additional Army Camp and Wizard Tower! Before upgrading the Town Hall to Level 6, upgrade all troops, buildings and wall as much as possible. Despite the expensive price of wall (30.000 of gold), it is very important to protect your Town Hall or resources, choose the effective base planning among those presented above.