Best TH9 Bases with Links for COC Clash of Clans 2023 - Town Hall Level 9 Layouts
Advertisement: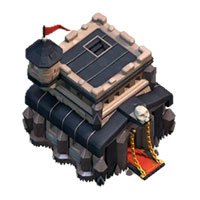 After upgrading Town Hall up to Level 9, its color changes to gray and dark blue for the first time ever, and you have access to 10 additional buildings! Now you can involve the Archer Queen and you have the possibility to upgrade Dark Barrack up to the highest (6th) level. This upgrade provides you access to all available troops in the game (Witches and Lava Hounds).

Please choose your best TH9 Farm, Defense or War Base! You also can easily find here Anti Everything, Anti 2 Stars, Anti 3 Stars, Hybrid, Anti Giant, Anti Loot, Anti GoWiPe or Dark Elixir Farming Bases, we have huge layouts collection!

We're trying to update COC Bases archive and add new 2023 Layouts with Links so you can Copy them!
In many Base Layouts, links are not yet available, but we are working on it. You can also help us by adding links in the comments!