Best bases for Clash of Clans - TH 9 / Town Hall Level 9
After update of the game on December 10, 2015, a large number of 3 main resources (Gold, Elixir and Dark Elixir) are kept in the Town Hall. Now it makes no sense to put Town Hall outside the Wall (you will lose the resources stored in the Town Hall and will not get shield!). After this update, the main task of the players is at any cost to defend the Town Hall! Please choose Base layout for "Defense"!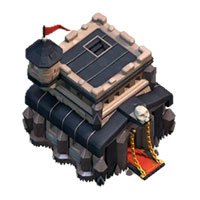 After upgrading Town Hall up to Level 9, its color changes to gray and dark blue for the first time ever, and you have access to 10 additional buildings! Now you can involve the Archer Queen and you have the possibility to upgrade Dark Barrack up to the highest (6th) level. This upgrade provides you access to all available troops in the game (Witches and Lava Hounds).
Price for the wall becomes exorbitant (1.000,000 of gold per unit), so it is very difficult to upgrade the wall without buying gems (using actual money) , it takes you a number of months maybe even years. Thus upgrade all troops and buildings and then you can upgrade Town Hall up to Level 10. Depending on your goals in the game, select the base plan.

Update: Few base plans with 2 Air Sweeper & Dark Spell Factory are added.