Best TH7 Bases with Links for COC Clash of Clans 2023 - Town Hall Level 7 Layouts
Advertisement: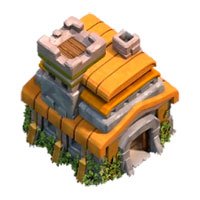 After moving to Town Hall Level 7, it is recommend upgrading Barrack up to Level 9, since it gives you the access to Dragons! They are very strong, and paired with a Rage Spell (which opens after accessing the Spell Factory up to Level 3) helps you to win the Clan War! In addition you will be able to build Dark Elixir Drill and Barbarian King. Unfortunately the wall became very expensive, that is why we recommend you to stay at this level for about 3 months to completely upgrade it. (Don't forget to upgrade the rest of buildings and troops). We recommend you to choose the base plans for farming (resource collection), good luck and see you at Town Hall Level 8. The higher level you move the more interesting things you can come across.

Please choose your best TH7 Farm, Defense or War Base! You also can easily find here Anti Everything, Anti 2 Stars, Anti 3 Stars, Hybrid, Anti Giant, Anti Loot, Anti Dragon or Dark Elixir Farming Bases, we have huge layouts collection!

We're trying to update COC Bases archive and add new 2023 Layouts with Links so you can Copy them!
In many Base Layouts, links are not yet available, but we are working on it. You can also help us by adding links in the comments!