Best TH11 Farm Bases with Links for COC Clash of Clans 2023 - Town Hall Level 11 Layouts
Advertisement: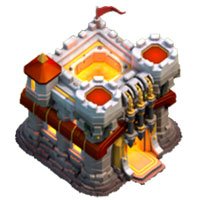 Town Hall of the 11th level is completely rebuilt; the walls of Town Hall are now faced with stone. Wooden penning gate has been replaced with a massive chain bars.

At the 11th level of the game you will get access to 4 additional buildings (Cannon, Wizard Tower, Archer Tower and X-Bow) and 2 new units (Grand Warden and Eagle Artillery). Elixir Storage and Gold Storage can be upgraded to the 12th level, and the Laboratory can be upgraded to the 9th level. As for the defensive structures, now you will get access to the Wizard Tower of the 9th level.

Please choose your best TH11 Farm, Defense or War Base! You also can easily find here Anti Everything, Anti 2 Stars, Anti 3 Stars, Hybrid, Anti Loot, Anti GoWiPe or Dark Elixir Farming Bases, we have huge layouts collection!

We're trying to update COC Bases archive and add new 2023 Layouts with Links so you can Copy them!
In many Base Layouts, links are not yet available, but we are working on it. You can also help us by adding links in the comments!