Best defense (trophy) bases for Clash of Clans - TH 10 / Town Hall Level 10
After update of the game on December 10, 2015, a large number of 3 main resources (Gold, Elixir and Dark Elixir) are kept in the Town Hall. Now it makes no sense to put Town Hall outside the Wall (you will lose the resources stored in the Town Hall and will not get shield!). After this update, the main task of the players is at any cost to defend the Town Hall! Please choose Base layout for "Defense"!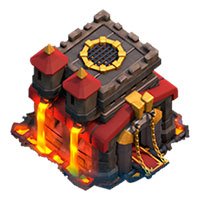 After update of the game on December 10, 2015, Town Hall of the 10th level is last but one in the game; if compared to the 9th level, colors of the Town Hall vary greatly to the burgundy and dark gray, lava flow erupts below the towers. At this level you have access to almost all the possible units of the game (8 more, besides Grand Warden and Eagle Artillery), 2 Inferno Towers appear.

Update: Few base plans with 2 Air Sweeper & Dark Spell Factory are added.